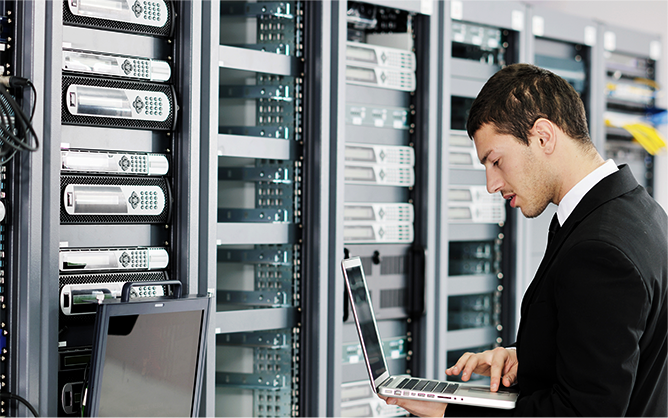 What are managed IT services?
For most small businesses, hiring a dedicated IT team for managed I.T. services just doesn't make financial sense. On the other hand, if you rely on network and online systems for business — and almost everyone does — you can't afford inefficiency or downtime. Managed IT services take care of the problem. A team of IT professionals keeps an eye on your network and troubleshoots problems offsite to keep your business up and running for a fixed monthly fee.
For many businesses, managed IT services provide the best of both worlds. A team of dedicated IT professionals monitors your network and equipment for a fraction of the cost of hiring an in-house IT team.
Why do I need managed IT services?
You rely on your network for business. It can be extremely costly if your data is stolen or your software is infected with a virus. This is where it really pays to have a team of IT professionals monitoring your network and its components. Managed IT services professionals have the software to detect vulnerabilities and recognize troublesome performance loss in a network component long before a human could detect a threat. Additionally, managed IT service professionals will provide you with information regarding the latest data security systems that are available.
Another benefit of managed IT services is that they help you keep your software up-to-date. In today's fast-moving marketplace, it's not uncommon to have to upgrade your business management or POS software. Managed IT service professionals help you make this transition much more smoothly than if you were to attempt it on your own. IT professionals will know what type of software will best serve our business, they'll know what's available, and they'll help you purchase what you need. They will then take care of the installation to make the transition as smooth as possible.
Even if your organization already has a dedicated IT department, managed IT services can provide a huge benefit. Task your managed IT service with the day-in, day-out software updates and maintenance chores that eat up a lot of time, and let your IT staff focus on more important projects to help your business grow and profit.
What will Wasatch IT managed IT services do for my business?
Wasatch IT's services division provides several benefits that will give your business a technology edge. Some of these benefits include:
Fixed monthly IT costs
In-depth knowledge of a wide range of technologies
Experience with numerous networks
Remote monitoring of your systems
Most importantly, you'll have a place to turn if you have a question about your network or if you're experiencing technical problems. Our IT professionals will keep your network performing at its best, so it's likely that you'll never have to make that call, but isn't it nice to know that it's there if you need it?
Call Wasatch IT today at (801) 983-3671.